Brief for San Francisco Bay Area/Monterey
Forecast Discussion
FXUS66 KMTR 071136
AFDMTR
Area
Forecast
Discussion
National
Weather
Service San Francisco Bay Area
336 AM
PST
Wed Mar 7 2018
.SYNOPSIS...An active weather pattern through next week as several
storm systems swill bring rain chances to the Bay Area. The next
chance for rain will be Wednesday night and Thursday as a weak
cold front moves through. Lingering rain showers will persist into
the upcoming weekend. Wet and chilly weather will likely return
Tuesday through Thursday next week.
&&
.DISCUSSION...as of 2:40 AM
PST
Wednesday...The storm door
remains open through much of the upcoming forecast. Latest model
guidance continues indicate an active longwave pattern will bring
several chances for precipitation through late next week.
The next chance for precipitation will be associated with a storm
system currently taking shape about 700 miles west of San
Francisco. Water vapor and
IR
satellite imagery show a decent
circulation spinning slowly moving eastward. 00Z models continue
to march the low pressure eastward today and northeastward
tonight. Ultimately the deepening low will move to the northeast
and drag a weak cold front across the Bay Area late tonight and
Thursday. Light rain is forecast to develop San Francisco
northward this evening as warm advection and isentropic lift kicks
in.
Rain
will spread south and east late Wednesday and Thursday as
the cold front moves through. Ample moisture exists well south of
the low (PWATs > 1" on satellite), but it get pinched off as the
low moves east. Therefore rainfall amounts will be somewhat
limited with a tenth or two possible north of the Golden
Gate
and
generally less than a tenth to the south.
Moist southwesterly flow aloft will persist Thursday night and
into the weekend as the cold frontal slowly stalls/dissipates
across the Central Coast. Therefore, lingering showers will be
possible Thursday night through Saturday. specific
placement/timing of these showers will be problematic and current
forecast will have a general low
POP
mention.
Rainfall
amounts
will be highest from the Santa Cruz Mts southward and generally a
tenth or two(possibly up to a half inch Big Sur Coastal Mts),
lesser amounts to the north.
Rainfall
is likely to increase late Saturday as an embedded
shortwave trough moves through. Additionally, the approaching
shortwave trough taps into slightly better moisture advecting
PWATs over an inch to the Central Coast. Once again, current
guidance puts highest rainfall over southern half of the forecast
area.
It should be noted that there is no real cold air tap like the
region had the previous week or two.
Snow
levels are in the 6-8k
foot range. Temperatures for day and night will generally be close
to normal or in some spots above normal.
Rain
chances diminish Sunday and the 00Z model run now has Monday
mostly dry across the region with weak ridging. Given this latest
development, cut back rain chances and raised temps Sunday and
Monday. The drier solution for Monday is likely due to a deepening
low and more amplified pattern. More info on the deepening low:
the
GFS
dives a stout 170+ kt jet across the Bering Sea Friday and
over the weekend. The downstream affects are a highly amplified
pattern and ultimately bombogenesis/explosive cyclogenesis in the
Gulf of AK by Sunday. The
GFS
has 6 hr pressure falls of 16 mb and
over the course of 24 hrs about 20 mb, which is close to 1
bergeron. It will be interesting to watch from a meteorological
perspective if the
GFS
is right.
Another low pressure develops behind the potent low and will bring
would could be the strongest rain event to the Bay Area over the
next week. Lots of details need to be sorted out between now and
then, but medium range models bring more substantial rain to the
Bay Area the middle of next week. Stay tuned...
&&
.AVIATION...as of 03:36 AM Wednesday...For 12z Tafs. Satellite
imagery continues to show high level clouds moving over the area
from the SW.
High
clouds will remain in the area for the rest of
the day. CIGS will gradually lower throughout the day eventually
dropping to
MVFR
sometime tonight. Showers are expected to move
through the region along with a surface cold front towards the end
of the forecast period. Winds will remain generally light through
the period mainly
SE
to SW.
Moderate overall forecast confidence.
Vicinity of KSFO...VFR through late tonight before possible MVFR
cigs early tomorrow morning. Generally S/SE winds around 10 kt or
less through the period. Chances of showers starting early
tomorrow morning.
SFO Bridge Approach...Similar to KSFO.
Monterey Bay Terminals...VFR expected through most of the
forecast period for Monterey Bay terminals. CIGS expected to lower
late tonight, could drop to
MVFR
early tomorrow morning. Light
winds expected, locally stronger at KSNS.
&&
.MARINE...as of 02:17 AM
PST
Wednesday...Southerly winds will
increase this morning across the northern waters ahead of an
approaching system that will pass to the north of the region. This
system will bring a complex sea state to the waters with a mix of
long period and fresh swell. A second west- southwest swell is
expected with the storm system mid-week.
&&
.MTR WATCHES/WARNINGS/ADVISORIES...
.Tday...SCA...Pt Arena to Pigeon Pt 10-60 nm from 9 AM
SCA...Pt Arena to Pt Reyes 0-10 nm from 4 PM
&&
$$
PUBLIC FORECAST: MM
AVIATION: AS
MARINE: AS
Visit us at
www.weather.gov/sanfrancisco
Follow us on Facebook, Twitter, and YouTube at:
www.facebook.com/nwsbayarea
www.twitter.com/nwsbayarea
www.youtube.com/nwsbayarea
500MB (FL180) Constant Pressure Chart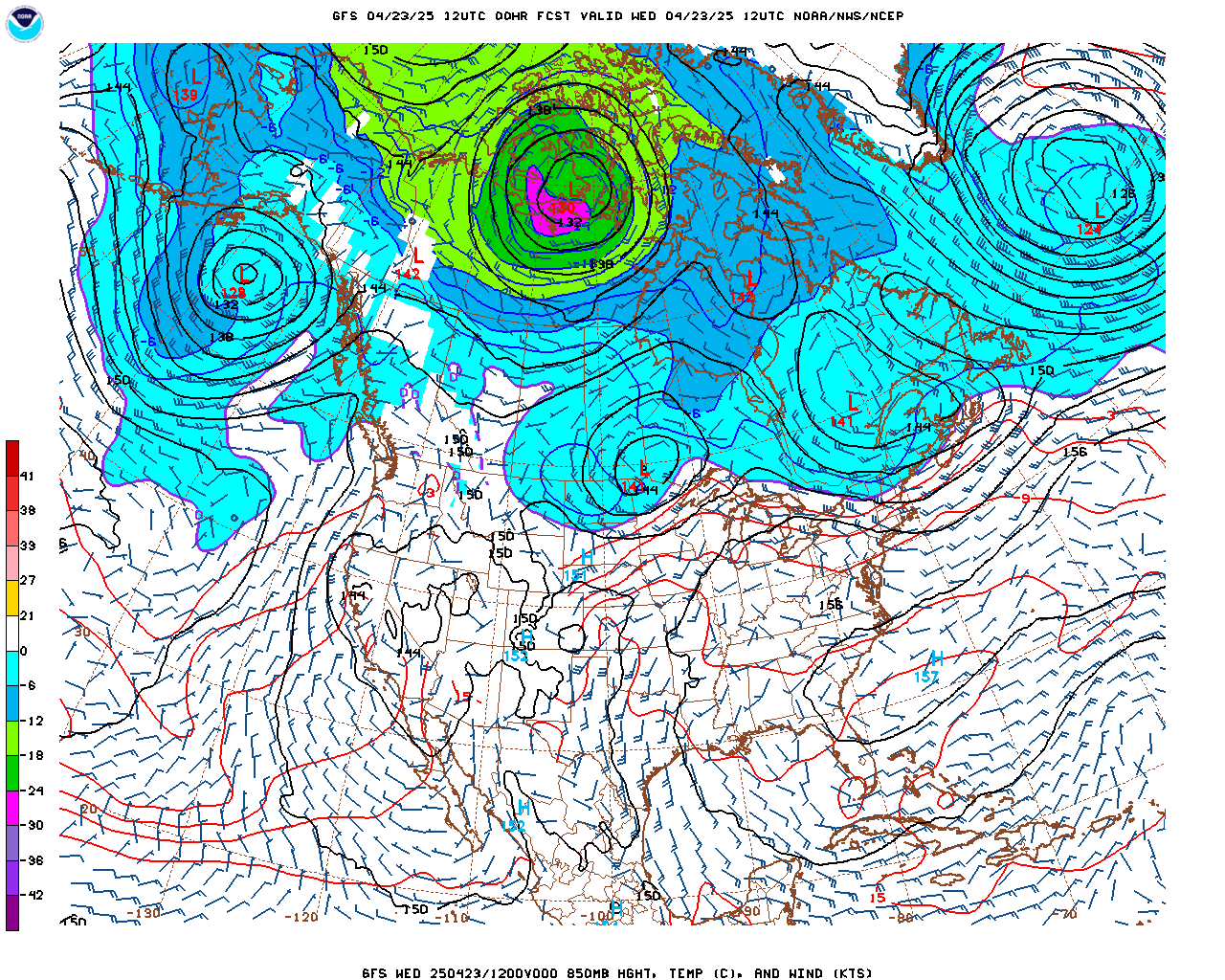 Surface Analysis